SwiftBot from Pudu Robotics Sets the Standard for Delivery Robots with iF Design Award Win
Pudu Robotics is pleased to announce they are recipients of the prestigious iF Design Award 2023 for SwiftBot, their next generation delivery robot. The iF Design Award is given out each year by 133 design experts from around the world who determine award winners based on a set of objective standards. Out of 11,000 entries from 56 countries, SwiftBot stood out thanks to its cutting-edge capabilities and aesthetic design.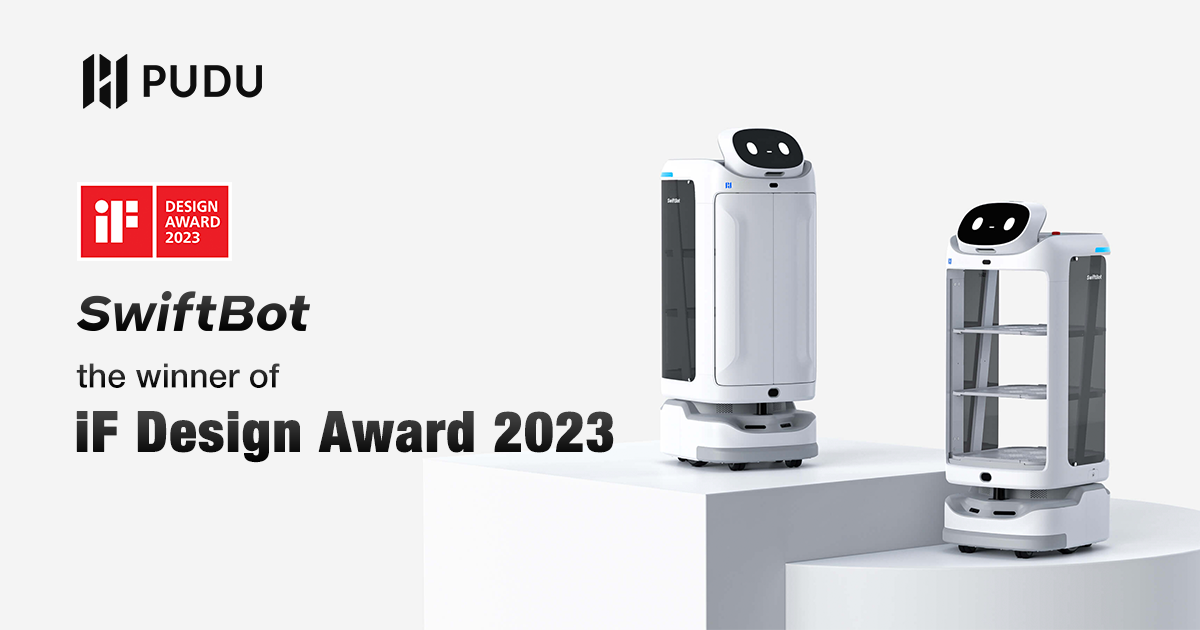 PUDU SwiftBot won iF Design Award 2023
SwiftBot represents a remarkable step into the future of robotic delivery systems. Built around a revolutionary front and rear dual laser lidar chassis, it comes with fully enclosed delivery compartments that can carry goods from one location to another, and its real-time environment analysis algorithm provides the capability of maneuvering through highly complex and dynamic spaces, making it an ideal delivery system for indoor venues such as restaurants, bars, and stores.
iF Design judges noted several specific features the SwiftBot comes equipped with as reasoning for their vote. SwiftBot is enabled with omnidirectional perception capability so that it can safely and efficiently deliver items and move backwards and out of the way if necessary. Combined with IoT functionality that connects the SwiftBot to other PUDU devices and smart facility infrastructures, this allows SwiftBot freedom of movement and avoidance of obstacles throughout a building's various spaces, even allowing it to utilize elevators on its own. By utilizing the PUDU Smart IoT platform, SwiftBot can seamlessly navigate through E-gates and electric glass doors, automatically call and enter elevators, select the desired floor, and exit upon arrival.
Additionally, SwiftBot's human responsiveness comes thanks to detection algorithm that allows the robot to detect people in the vicinity and to allow them space to pass by before continuing with its task at hand.
This detection of the human element of the robot's surroundings is expanded on with its real-time visualized path status, which displays the robot's intended path via a laser pointed at the ground so that those around SwiftBot can easily see where it plans on going. Human work is also aided with the innovative interaction design, which gives users the ability to open the delivery robot's compartment doors without needing to use their hands. SwiftBot provides efficient assistance by projecting a pattern onto the floor that users can step on to signal the delivery compartment doors to open when they need something but their hands are already full.
For more information on Pudu Robotics, please visit https://www.pudurobotics.com/
Or follow us on social media:
Facebook / YouTube / LinkedIn / Twitter / Instagram
About Pudu Robotics
Shenzhen-based and founded in 2016, Pudu Robotics is a world-leading tech-focused enterprise dedicated to the design, R&D, production and sales of commercial service robots, which aims to use robots to improve the efficiency of human production and living, Pudu Robotics has been rapidly growing in recent years to become a "leader" in the global markets with coverage of over 60 countries and regions worldwide.